By The Visual and Data Journalism Team
BBC News
More than 11.2 billion doses of coronavirus vaccines have been administered, in at least 197 countries worldwide.
However, there are vast differences in the pace of progress in different parts of the world.
Some countries have secured and delivered doses to a large proportion of their population – but others are some way behind.
Who is receiving vaccines?
With an aim to give doses to nearly every adult around the world, this is the largest vaccination programme in history.
Overall, China and India have administered the highest number of doses, with more than 3.2 billion and 1.8 billion respectively. The US is third, with around 560 million.
Global vaccine rollout
Enter a country or territory to find out the progress of the vaccine rolloutType in 2 or more characters for results.

Many poorer countries are relying on deliveries from Covax, a scheme led by Gavi, the Vaccine Alliance, together with the WHO and the Coalition for Epidemic Preparedness Innovations (CEPI), which is trying to ensure everyone in the world has access to a Covid vaccine.
Covax had planned to deliver about two billion vaccine doses globally by the end of 2021, but downgraded its supply forecast as a the result of global export bans, production challenges and slow regulatory approval processes.
The scheme has now distributed more than one billion vaccines.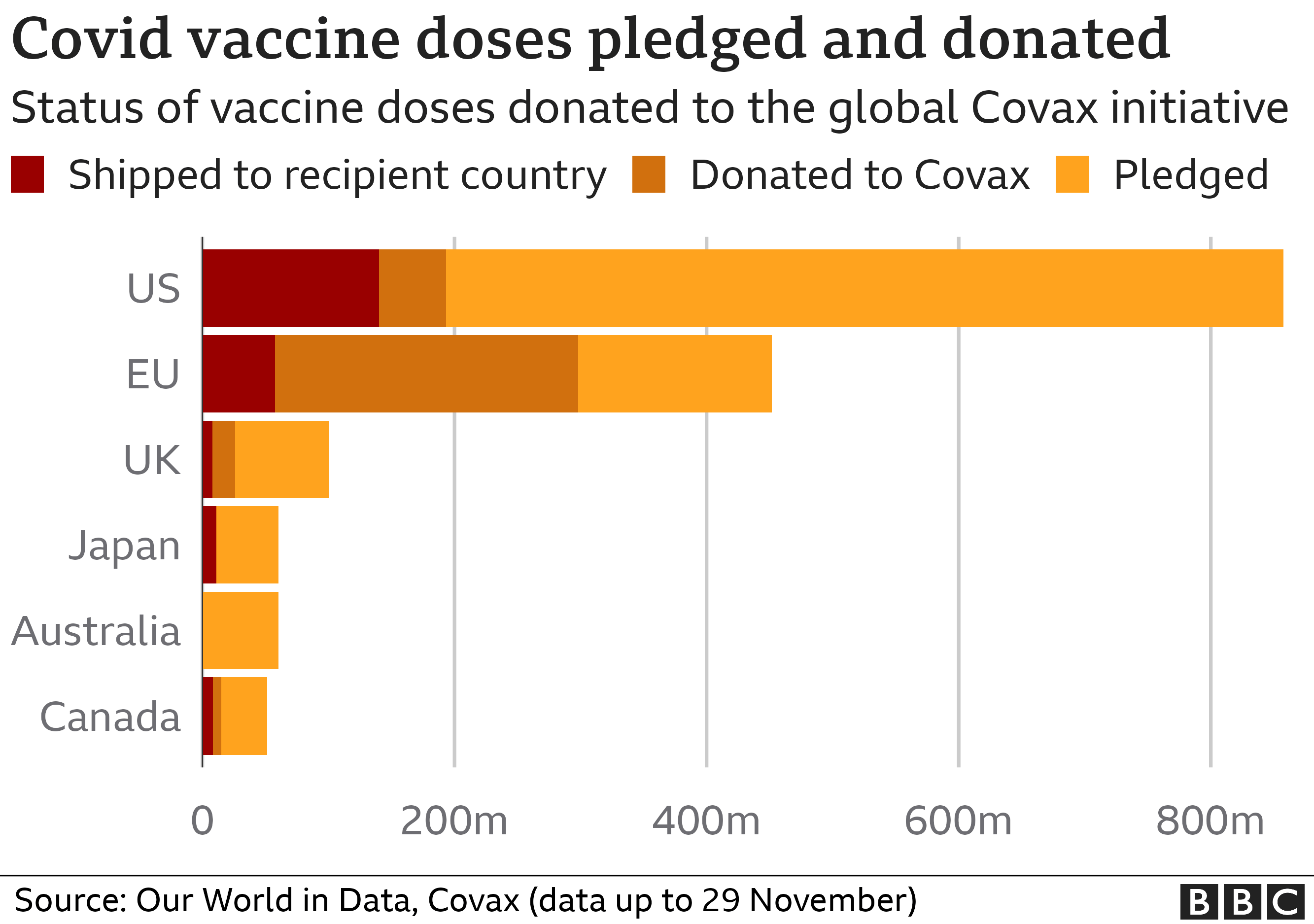 Which vaccines are in use?
The vaccine produced by Pfizer and BioNTech was the first approved by the WHO, followed by several others.
The Oxford-AstraZeneca vaccine is now the most widely used around the globe.
Unlike Pfizer's jab – which has to be kept at an extremely cold temperature (-70C) – the Oxford vaccine can be stored in a normal fridge, which makes it easier to distribute.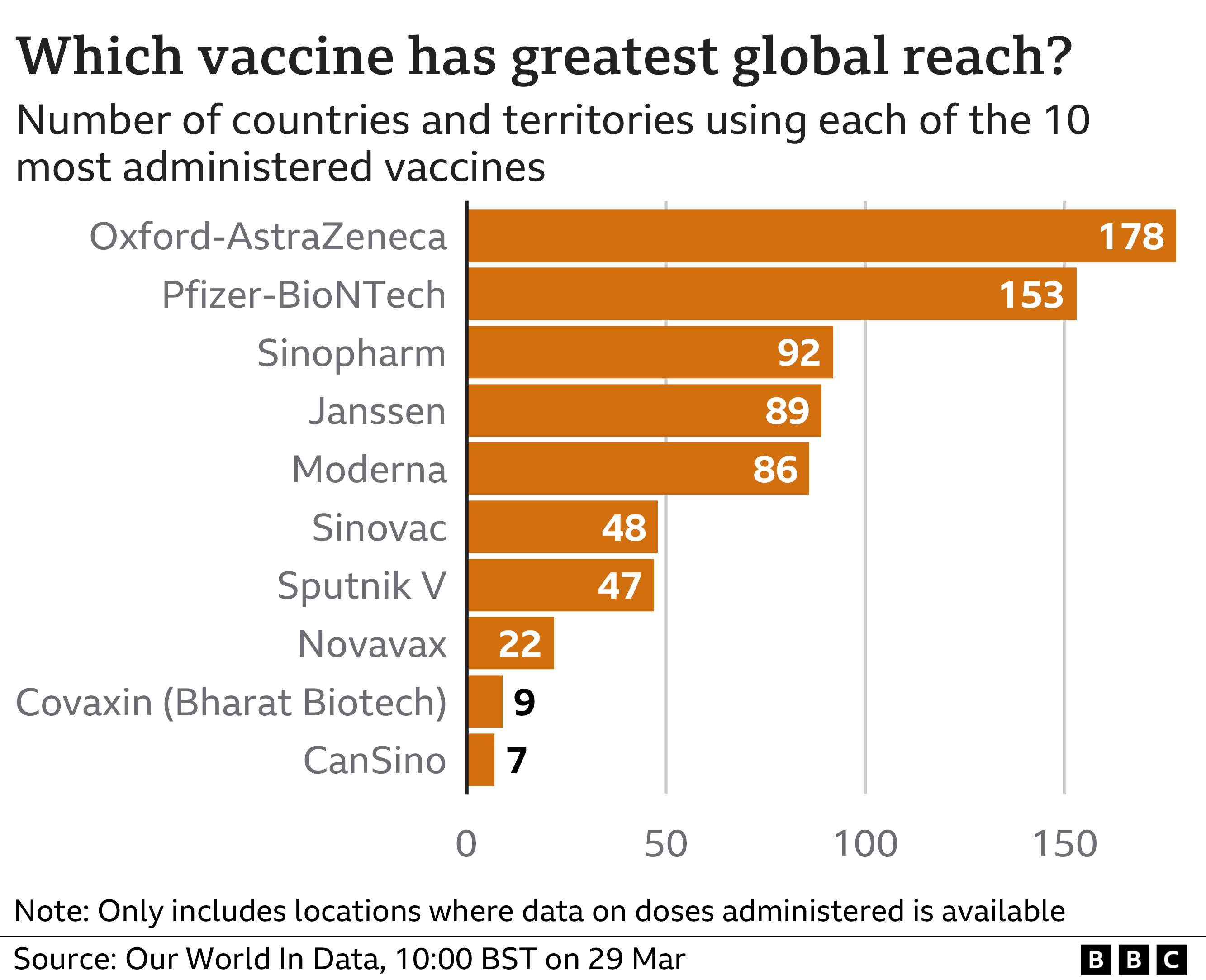 Most governments have started with doses for the over-60s, health workers and people who are clinically vulnerable. After priority groups have been vaccinated, there is a wider rollout among younger age groups.
The Pfizer vaccine has been approved for everyone aged five and over in the EU, US, UK and other countries. Children aged between five and 11-years old receive a smaller dose of the vaccine than those aged 12 and over. The Sinovac vaccine is being used for children as young as three in China and Colombia.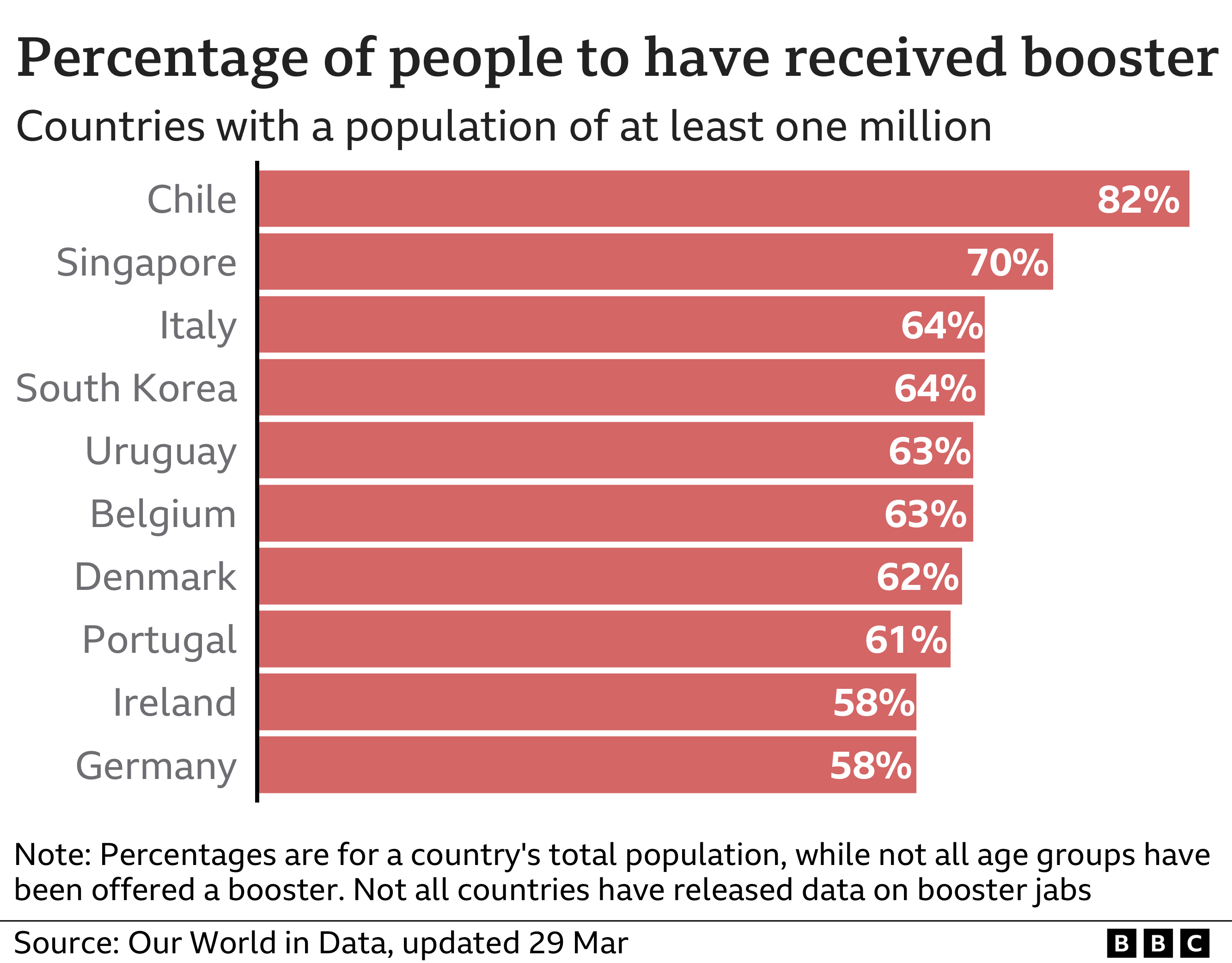 Early studies suggest the Omicron variant of coronavirus is better able to evade vaccine protection than previous strains, though vaccination still offers strong protection against serious illness and hospitalisation.
A third 'booster' dose of a vaccine does appear to offer protection against infection from Omicron and at least 121 countries have begun booster vaccination programmes.
Worldwide, more than 100 possible vaccines are undergoing trials to test their efficacy and safety.