By Bukola Adebayo, CNN
Nigeria will evacuate hundreds of its citizens from South Africa following a string of xenophobic attacks, a government official told CNN on Monday.Flights carrying the returnees will start leaving Johannesburg by Wednesday, said Abike Dabiri-Erewa, chairwoman of the Nigerians in the Diaspora Commission."We have 640 Nigerians that want to come back from South Africa, and that will require two planes. There may be more people who want to leave, but we will know when we get to South Africa on Wednesday," Dabiri-Erewa told CNN. Nigeria's President Muhammadu Buhari is deeply concerned about the "intermittent violence" against its citizens in South Africa and called on the country's government to take steps to end it, his media aide Femi Adesina said."President Buhari is worried that the recurring issue of xenophobia could negatively affect the image and standing of South Africa as one of the leading countries on the continent, if nothing is done to stop it," Adesina said in a statement.A Nigerian real estate firm, Landwey Investment, which offered free flights for those who want to come back last week, said 10 Nigerians have taken up the offer, according to CEO Olawale Ayilara.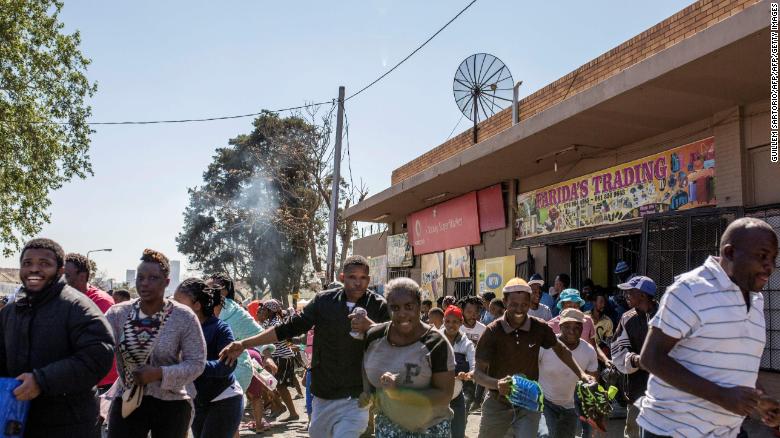 Looters run off an alleged foreign-owned shop in Johannesburg last Monday
Ten people, including two foreigners were killed in a spate of anti-immigrant violence and looting that erupted in Johannesburg, Pretoria and elsewhere in the country last week.Most of the business targeted in the attacks were owned by immigrants from Nigeria, Ethiopia, Zambia, and Kenya, sparking diplomatic tension and backlash against South Africa.Nigeria recalled its ambassador to South Africa and some of its citizens retaliated by looting and destroying some South African-owned brands. Madagascar and Zambia pulled out of a football match against South Africa's Bafana Bafana in the wake of the attacks.On Sunday, two people were killed, and 16 others were arrested in fresh riots that erupted as looters targeted shops in a business district in Johannesburg. South African President Cyril Ramaphosa on Monday called on law enforcement officers to be vigilant and firm in dealing with those involved in the violence. Ramaphosa in statement said the attacks were undermining efforts to showcase South Africa as a country with opportunities for all those who live in it."Government will not allow sporadic lawlessness and violence to disrupt the safety and livelihoods of millions of South Africans and the majority of foreign nationals in our country who are law-abiding and have the right to conduct their lives and businesses in peace," Ramaphosa said.