By Ben Westcott, James Griffiths, Helen Regan, Joshua Berlinger and Jessie Yeung, CNN Updated 7:37 a.m. ET, August 14, 2019
At a press conference today, pro-Beijing lawmakers in Hong Kong denounced last night's protesters and called their actions "terrorism."
"What happened last night fits the Beijing description of "terrorist behavior,'" said lawmaker Aron Kwok Wai-keung, adding, "the strength of violence matches the description."
Lawmaker Priscilla Leung said there was no justification for the levels of violence on display at the airport yesterday. "I don't buy the protesters' excuses," she said.
Another Hong Kong politician, Gary Chan, called for the pan-democracy camp to condemn the violent acts.
Several of the lawmakers at the press conference specifically condemned the protesters who held a man for several hours last night, accusing him of being an undercover police officer and refusing to let paramedics through when he appeared to lose consciousness.
The Chinese central government said earlier today that the unconscious man was a mainland Chinese resident.
"Is it acceptable to be detained and treated this way because they have a certain background or identity?" said pro-Beijing lawmaker Starry Lee today.

Protesters: "We apologize for our behavior but we are just too scared"
After the chaos at the airport last night, some protesters are saying they're sorry.
On Telegram — an encrypted messaging app popular with protesters — some are sharing images apologizing for last night. But it's unclear how widespread these feelings are within the movement, because only a small handful of people have posted these sentiments.
One person, who posted anonymously in a Telegram group with more than 34,000 members, explained that people had become more aggressive after police posed undercover as protesters.
"This has led to our unsuppressed anger and overly aggressive way to respond," the person wrote.
Another post on the app was of a picture featuring a yellow hard hat — something protesters often wear to demonstrations as a safety measure — alongside this message:
Joshua Wong, who was a leader of the 2014 Umbrella Movement, also tweeted an apology, saying that: "Hong Kong is sick."
"We thank you for your tolerance and understanding," he said.
【Sorry for inconvenience. HK is sick.】

1. We would like to sincerely apologize for all inconvenience caused by the peaceful demonstration at the HK International Airport.
The Telegram channel's admin group is anonymous, and no group or spokesperson released these messages. The protest movement does not have a centralized leadership that conveys messaging.
In addition to the apologies, a handful of other posts appear to show protesters urging their fellow demonstrators not to apologize.
"Whoever apologized means they are breaking off their relationship with front-line protesters," wrote one user of LIGHK, an online forum that is considered Hong Kong's answer to Reddit.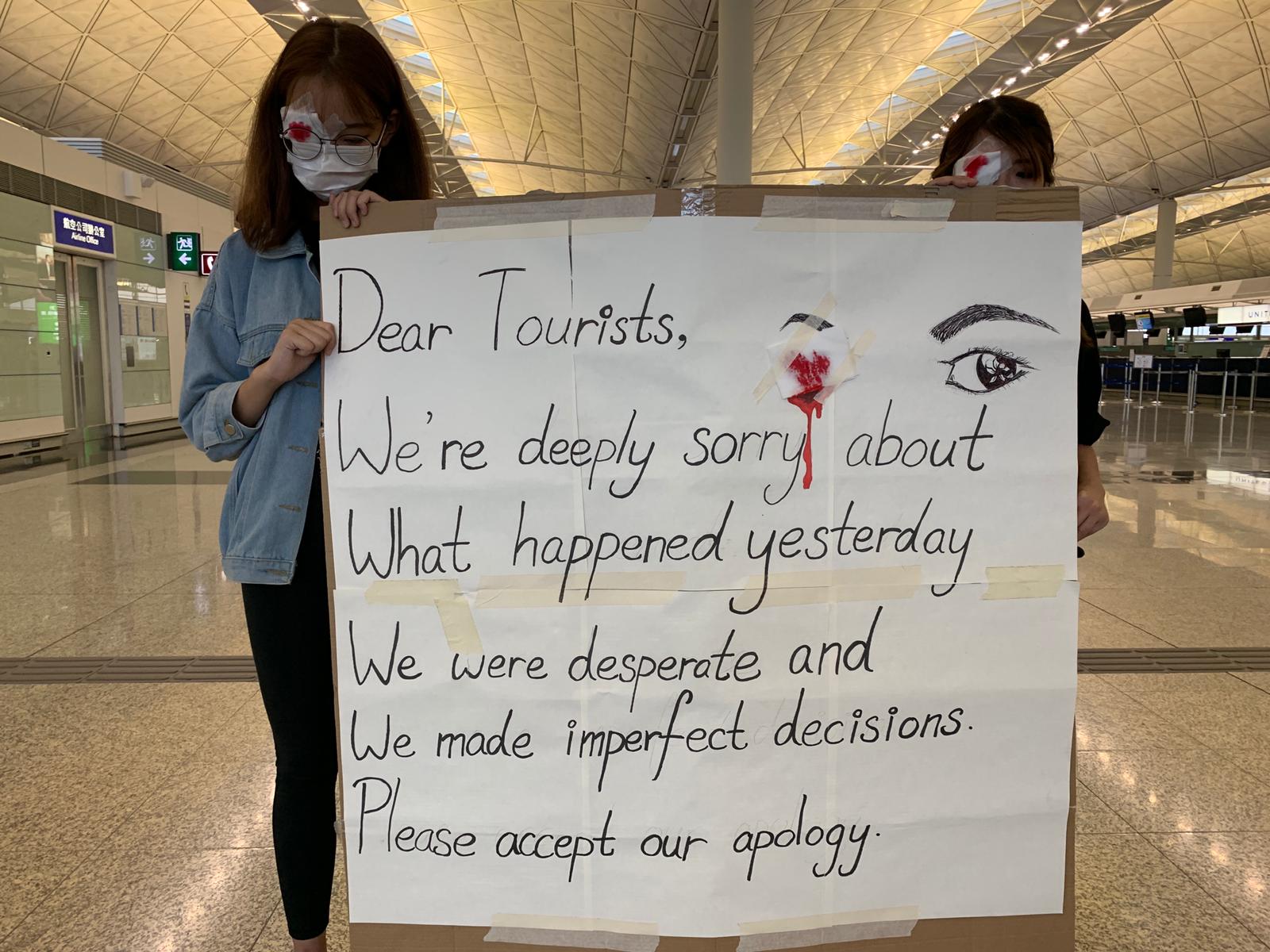 1 hr 44 min ago
Hong Kong police condemn last night's protests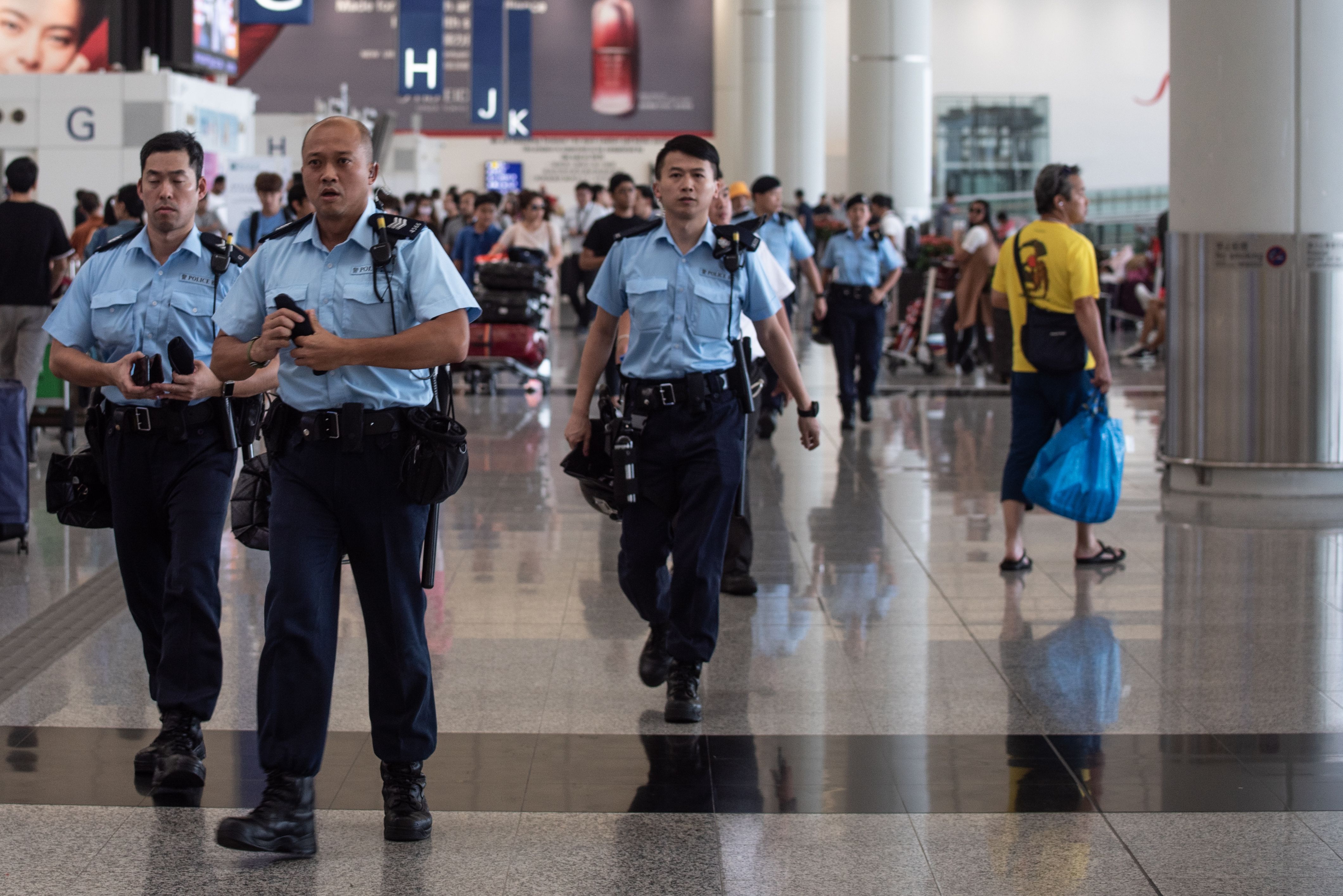 At a press conference today, the Hong Kong police condemned last night's protests and said the airport was not the place for protests.
Police accused protesters of assaulting and imprisoning one man, and preventing medics from assisting him. Mak Chin-ho, the assistant commissioner of police, said it took a few hours to reach the injured man because "some protesters made roadblocks and used laser pointers on our colleagues and stopped us from going forward."
Mak said one police officer pulled out a gun in defense after "protesters pushed him to a corner to beat him up, and grabbed his pepper spray and baton."
Five men, aged from 17 to 28, were arrested for unlawful assembly, assaulting police officers, and possession of weapons. They are still in custody.
Police warned that carrying out illegal activities at airports could incur heavier penalties up to life imprisonment.
The airport has also received a court order banning protesters from illegally protesting there again. The order also authorizes police officers to arrest those "reasonably believed" to be violating the rules set out by the court.1 hr 11 min ago
New security checks at Airport Express causes long lines
It's normally a smooth ride from Hong Kong to the airport on the Airport Express train — it runs every 12 minutes, and you simply buy a ticket and hop on.
But today, the train is running at 25-minute intervals.
And once passengers get off the train at the airport, there are security measures in place — only passengers with boarding passes and passports are being let into the terminals.
Long lines are forming as passengers wait to show their documents.
Travellers arriving at the airport using Airport Express service now have to present their boarding pass to security staff to enter the airport, as a court injunction against demonstration in some areas is now in force. #HongKong
Some of the new measures are in line with a court injunction, published by the airport earlier today, which bans illegal protests at the airport. Anybody who obstructs airport services or transit systems can be held in contempt of court and may be fined or imprisoned.